HOW CAN I ENSURE A QUALITY FINGERPRINT?
There are a number of conditions that can affect the image quality of a fingerprint. For instance, wet or sweaty fingers can cause the fingerprint to look blurred and not come out clearly. On the other hand, dry fingers will cause the image to look broken and lack definition. If a clearly defined delta and core (see picture to the right) can be seen, then we have a quality fingerprint. At A1 FingerPrints, we are experts at looking and finding quality fingerprints to ensure they are approved.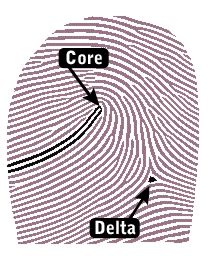 WHAT ARE THE DIFFERENT TYPES OF FINGERPRINTS?
Arches – only represent five percent of the fingerprint patterns encountered – no core or delta formations 
Loops – constitute between 60-70 percent of the patterns found in fingers – one delta formation and a core
Whorls – constitute between 25-35 percent of the patterns found in fingers – two delta formations and a core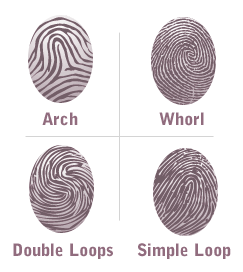 HOW MUCH TIME DOES IT TAKE FOR A1 FINGERPRINTS TO CAPTURE MY FINGERPRINTS?
Our fingerprinting process should take anywhere between 5-10 minutes, depending on the image quality of your prints.
WHAT ARE YOUR HOURS OF OPERATION?
Our hours of operations are Monday through Thursday, 9:30 a.m. to 5:00 p.m, Friday 9:30 am to 2:00 pm, and weekends by appointment. Walk-ins are welcome. We are also available for mobile fingerprinting services by appointment for business and organizations.
HOW LONG DOES IT TAKE TO GET BACK THE FINGERPRINTING OR DRUG TEST RESULTS?
Results should take anywhere between 48-72 hours. However, if the quality of prints are poor, it may require a reprint or a longer process time. If a criminal history is found, it can increase the amount of time taken to receive results. The state's current work load is another factor that may affect
fingerprinting
results time. We will be here and available for help throughout the entire process. 
DO I NEED TO MAKE AN APPOINTMENT TO GET MY FINGERPRINTS TAKEN?
No, please feel free to
walk in
in during our hours of operation and get your fingerprints taken. Cash, corporate check, or credit card is accepted. If you would like to schedule an appointment, we will make sure that you are seen at your requested time. We can also come to your location. Inquire with us regarding possible travel fees.
ARE YOU ABLE TO COME TO MY LOCATION FOR FINGERPRINTING?
Yes, we are more than happy to come to your business or organization. Please call us in advance to schedule an appointment and inquire about the possible travel fees applied for your area.